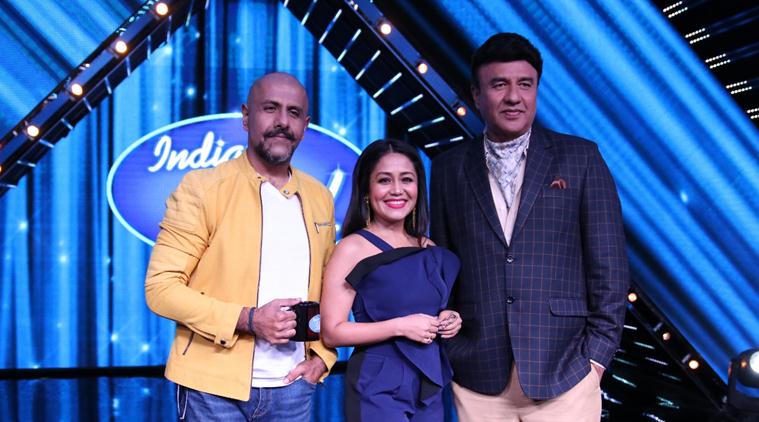 The 10th season of Indian Idol is going to be aired on Sony TV from 7 July 2018 after a gap of two years. The Judges for this season are Anu Malik, Vishal Dadlani and Neha Kakkar. In fact Neha Kakkar was one of the contestants in Season 2 of Indian Idol who got eliminated in Gala Round. Today she is an established singer in the industry and this time as one of the judges. Manish Paul will be the host of the show this season.
बता दें कि 'इंडियन आइडल-सीजन 10' की शुरुआत शनिवार 7 जुलाई से सोनी टीवी पर हो रही है। शो में नेहा के अलावा विशाल ददलानी और अनु मलिक बतौर जज नजर आएंगे। ये शो हर शनिवार और रविवार रात 8 बजे दिखाया जाएगा।
इंडियन आइडल-10 ऑडिशन में  तरह-तरह के सिंगर मुकाबले में शामिल होने की जद्दोजहद में लगे हुए हैं प्रोमो में न सिर्फ उनकी सिंगिंग नजर आ रही है बल्कि इन सिंगर्स की जिंदगी का संघर्ष भी देखने को मिल रहा है.
ऑडिशन के दौरान नेहा के कुछ यादगार पल
दिल्ली में इंडियन आइडल-10 के ऑडिशन के दौरान नेहा उस वक्त हैरान रह गईं। जब उनके सामने जगदीश चुग का बेटा सामने आया। नेहा ने शो में बताया कि जब वो छोटी थी तो 500 रुपए कमाने के लिए जगदीश चुग के बैंड में अपनी बहन सोनू कक्कड़ के साथ जागरण में जाकर भजन गाया करती थीं। मुश्किल समय में चुग परिवार ने उनकी काफी मदद की थी। नेहा ने बताया कि जब मैनें मिस्टर चुग के बेटे को अपने सामने देखा तो अपने आंसू रोक न सकी और मेरी सालों पुरानी यादें भी उन आंसुओं के साथ बह निकली।