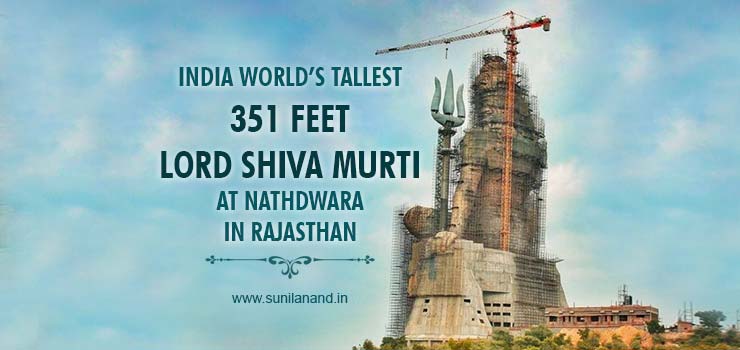 India world tallest 351 feet Lord Shiva Murti in Rajasthan
The highest Shiva statue in the world, in Rajasthan, 85% of the work for the huge statue has been completed, 351 feet this idol will be completed by 2019 at Nathdwara in Rajasthan, from 20 km away.
Just recently, Gujarat's largest statue of Statue of Unity has been unveiled by Sardar Vallabh Bhai Patel on the banks of Narmada river. Now Lord Shiva's 351 feet high statue is going to be built in Nathdwara of Rajasthan. It is believed that this idol will be the highest Shiva statue in the world. This statue is likely to be completed by next year.
Within 50 km from Rajasthan's Udaipur district, Ganesh Tekri is being the world's highest Shiva statue in Shrinathdwara. The construction of this statue has been completed by 85 percent. By completing the work of the statue at the earliest, this statue will be unveiled to see the tourists.
In the highest Shiva statue, Lord Shiva is being told to meditate in meditation. This idol of Shiva is being made by 'Miraj Group'. This statue is expected to be completed by March next year.
Four lifts and three stairs are being made in this idol, which makes it easy for visitors to see it. Tourists will be able to reach an altitude of 280 feet. Along with this, idols can be set from 20 kms away from lights lit from the US. This statue can be seen from the Konarkoli flyover located 20 kilometers away.