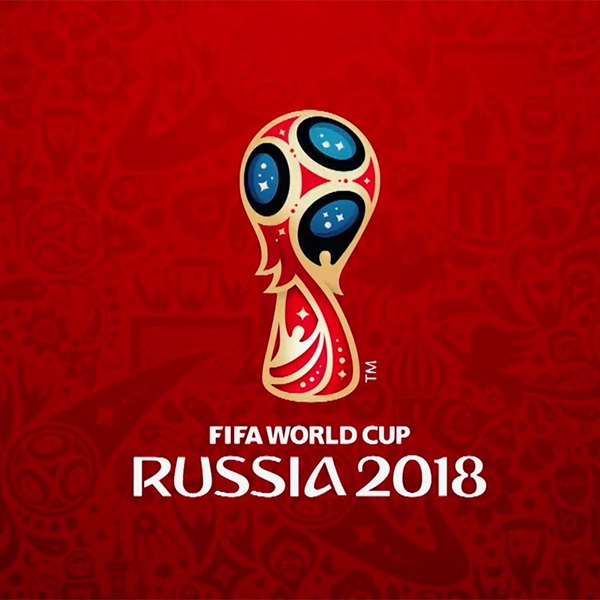 FIFA World Cup 2018
The 2018 FIFA World Cup is the 21st FIFA World Cup, a quadrennial international football tournament contested by the men's national teams of the member associations of FIFA. It is currently ongoing in Russia starting from 14 June and will end with the final match on 15 July 2018. The country was awarded the hosting rights on 2 December 2010.
This is the first World Cup to be held in Eastern Europe, and the eleventh time that it has been held in Europe.
The final tournament involves 32 national teams, which include 31 teams determined through qualifying competitions and the automatically qualified host team. A total of 64 matches will be played in 12 venues located in 11 cities. The final will take place on 15 July at the Luzhniki Stadium in Moscow.
See the full schedule and groups here:
Thursday, 14 June
Russia vs Saudi Arabia (Group A) – Moscow (Luzhniki) – 8.30 pm
Friday, 15 June
Egypt vs Uruguay (Group A) – Ekaterinburg – 5.30 pm
Morocco vs Iran (Group B) – St Petersburg – 8.30 pm
Portugal vs Spain (Group B) – Sochi – 11.30 pm
Saturday, 16 June
France vs Australia (Group C) – Kazan – 3.30 pm
Argentina vs Iceland (Group D) – Moscow (Spartak) – 6.30 pm
Peru vs Denmark (Group C) – Saransk – 9.30 pm
Croatia vs Nigeria (Group D) – Kaliningrad – 12.30 am (Sunday)
Sunday, 17 June
Costa Rica vs Serbia (Group E) – Samara – 5.30 pm
Germany vs Mexico (Group F) – Moscow (Luzhniki) – 8.30 pm
Brazil vs Switzerland (Group E) – Rostov-on-Don – 11.30 pm
Monday, 18 June
Sweden vs South Korea (Group F) – Nizhny Novgorod – 5.30 pm
Belgium vs Panama (Group G) – Sochi – 8.30 pm
Tunisia vs England (Group G) – Volgograd – 11.30 pm
Tuesday, 19 June
Colombia vs Japan (Group H) – Saransk – 5.30 pm
Poland vs Senegal (Group H) – Moscow (Spartak) – 8.30 pm
Russia vs Egypt (Group A) – St Petersburg – 11.30 pm
Wednesday, 20 June
Portugal vs Morocco (Group B) – Moscow (Luzhniki) – 5.30 pm
Uruguay vs Saudi Arabia (Group A) – Rostov-on-Don – 8.30 pm
Iran vs Spain (Group B) – Kazan – 11.30 pm
Thursday, 21 June
Denmark vs Australia (Group C) – Samara – 5.30 pm
France vs Peru (Group C) – Ekaterinburg – 8.30 pm
Argentina vs Croatia (Group D) – Nizhny Novgorod – 11.30 pm
Friday, 22 June
Brazil vs Costa Rica (Group E) – St Petersburg – 5.30 pm
Nigeria vs Iceland (Group D) – Volgograd – 8.30 pm
Serbia vs Switzerland (Group E) – Kaliningrad – 11.30 pm
Saturday, 23 June
Belgium vs Tunisia (Group G) – Moscow (Spartak) – 5.30 pm
South Korea vs Mexico (Group F) – Rostov-on-Don – 8.30 pm
Germany v Sweden (Group F) – Sochi – 11.30 pm
Sunday, 24 June
England vs Panama (Group G) – Nizhny Novgorod – 5.30 pm
Japan vs Senegal (Group H) – Ekaterinburg – 8.30 pm
Poland vs Colombia (Group H) – Kazan – 11.30 pm
Monday, 25 June
Uruguay vs Russia (Group A) – Samara – 7.30 pm
Saudi Arabia vs Egypt (Group A) – Volgograd – 7.30 pm
Spain vs Morocco (Group B) – Kaliningrad – 11.30 pm
Iran vs Portugal (Group B) – Saransk – 11.30 pm
Tuesday, 26 June
Denmark vs France (Group C) – Moscow (Luzhniki) – 7.30 pm
Australia vs Peru (Group C) – Sochi – 7.30 pm
Nigeria vs Argentina (Group D) – St Petersburg – 11.30 pm
Iceland vs Croatia (Group D) – Rostov-on-Don – 11.30 pm
Wednesday, 27 June
South Korea vs Germany (Group F) – Kazan – 7.30 pm
Mexico vs Sweden (Group F) – Ekaterinburg – 7.30 pm
Serbia vs Brazil (Group E) – Moscow (Spartak) – 11.30 pm
Switzerland vs Costa Rica (Group E) – Nizhny Novgorod – 11.30 pm
Thursday 28 June
Japan vs Poland (Group H) – Volgograd – 7.30 pm
Senegal vs Colombia (Group H) – Samara – 7.30 pm
England vs Belgium (Group G) – Kaliningrad – 11.30 pm
Panama vs Tunisia (Group G) – Saransk – 11.30 pm

Round of 16

Saturday, 30 June
Group C winner vs Group D runner-up – Kazan – 7.30 pm (Match 49)
Group A winner vs Group B runner-up – Sochi – 11.30 pm (Match 50)
Sunday, 1 July
Group B winner vs Group A runner-up – Moscow (Luzhniki) – 7.30 pm (Match 51)
Group D winner vs Group C runner-up – Nizhny Novgorod – 11.30 pm (Match 52)
Monday, 2 July
Group E winner vs Group F runner-up – Samara – 7.30 pm (Match 53)
Group G winner vs Group H runner-up – Rostov-on-Don – 11.30 pm (Match 54)
Tuesday, 3 July
Group F winner vs Group E runner-up – St Petersburg – 7.30 pm (Match 55)
Group H winner vs Group G runner-up – Moscow (Spartak) – 11.30 pm (Match 56)

Quarter-finals

Friday, 6 July
Winner match 49 vs Winner match 50 – Nizhny Novgorod – 7.30 pm (Match 57)
Winner match 53 vs Winner match 54 – Kazan – 11.30 pm (Match 58)
Saturday, 7 July
Winner match 55 vs Winner match 56 – Samara – 7.30 pm (Match 60)
Winner match 51 vs Winner match 52 – Sochi – 11.30 pm (Match 59)

Semi-finals

Tuesday, 10 July
Winner match 57 vs Winner match 58 – St Petersburg – 11.30 pm (Match 61)
Wednesday, 11 July
Winner match 59 vs Winner match 60 – Moscow (Luzhniki) – 11.30 pm (Match 62)

Third place play-off

Saturday, 14 July
Loser match 61 vs Loser match 62 – St Petersburg – 7.30 pm

Final

Sunday, 15 July
Winner match 61 vs Winner match 62 – Moscow (Luzhniki) – 8.30 pm